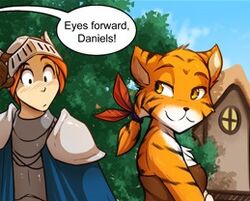 Therie Sah-Van, known unofficially by fans as Tigeress 37, is a Tiger and apart of the Tiger Clan. She appears with her clan-mates in Edinmire to partake in the procession meeting with the Templars. She seems to take fancy in Daniels, but it is later revealed that it is all part of a bet to try and "get a guard out of his armor before the first night."
References
Edit
Ad blocker interference detected!
Wikia is a free-to-use site that makes money from advertising. We have a modified experience for viewers using ad blockers

Wikia is not accessible if you've made further modifications. Remove the custom ad blocker rule(s) and the page will load as expected.