Maren Taverndatter (IPA(key) /məˈrɛn tæv'ərn'dæ'tər/) is a human character who was introduced in Chapter 2, along with her younger sister, Karen, and her friend, Red. She inherited ownership of the Pinewood tavern, where she currently works as a tavern maid.
From the Author[1]Edit
Personality
Edit
"Maren is bossy and prefers to have things go her way."
Biography
Edit
"Maren is the bossy elder of the Taverndatter sisters. She's one of Trace's current "girlfriends," though Trace and her were never seriously involved. They met at her tavern as Trace was passing by during his missions. She knew Trace still loved his wife, who had passed away years before; and she knew she was really just being used by Trace as a momentary distraction. But she stayed with him, nontheless [sic]."
Background & Personality
Edit
Maren's first appearance was brought about when Trace entered the tavern in an effort to begin his memory recollection. Her immediate reaction to his showing up was to slap him and complain to him of his whereabouts, particularly his month-long absence, notably because she was his girlfriend for a short period of time, although she was merely a temporary distraction since Trace had lost his wife a few years prior. To the confusion and dismay of Red and the Taverndatter sisters, Trace decided to both accompany and depart the tavern with Keith Keiser, who was in need of Trace's assistance concerning re-acceptance into the Basitin empire.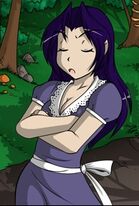 Through rather spontaneous means, Raine joined the trio fairly early in the story. Additionally, as a result of an inadvertent encounter in Chapter 3, Maren, Karen, and Red become acquainted with Sythe, who also happens to raid the tavern room of Trace and Flora around the same time. Near the beginning of Chapter 12, Sythe decides to cooperatively join the group of four.
Maren's personality nears the characteristics of one with a Histrionic disorder. She insists on having her way, and always strives for attention and leadership, as she knows her sister would not dare to intervene.
She may be the Un-Named Girl from pages 112 and 407, and as such, may have had a childhood acquaintance with Flora, whom she may have given a nickname beginning with "Tan".
References
Edit
Appearances
Edit
Appearances of Maren Taverndatter
Ad blocker interference detected!
Wikia is a free-to-use site that makes money from advertising. We have a modified experience for viewers using ad blockers

Wikia is not accessible if you've made further modifications. Remove the custom ad blocker rule(s) and the page will load as expected.