Madelyn Adelaide
Talk

3
83pages on
this wiki
Redirected from Madelyn
Madelyn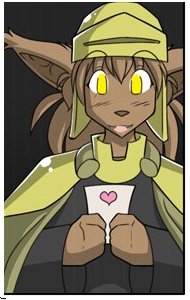 Madelyn handing Natani her note for Keith
Information
Gender:
Female
Race:
Basitin
Kinship:
Eastern Basitin
Current Age:
13
Class:
Basitin Lieutenant
Faction:
Eastern Basitin Kingdom
Current Status:
Active
Notes:
Back Ground
Edit
Lieutenant Madelyn Adelaide (AKA Maddie Addie) is a member of the Basitin army and has only appeared briefly during the story, so we are unable to classify her as a secondary character yet. She might end up becoming a secondary character due to her sneaking aboard Eric's ship between chapters thirteen and fourteen. Since they could not dump her into the middle of the ocean, she was forced to come along after leaving the barrel she was inside she also knocked down a lantern causing a fire which would later be blamed on Evals and Mike. Additionally she is believed to be King Adelaide's daughter.
Personality
Edit
Madelyn has a very up-beat and positive attitude, but is not as mature as her rank suggests, she is more like a teenage girl than a lieutenant in many ways, but in chapter 12, page 556, she can be seen defending Keith in a mature and focused manner.
Relationships
Edit
Keith:
It is apparent that she has a crush on Keith, the way she acts when she is around him and sees him. When Keith stands trial after the Tower is destroyed, she is seen defending Keith and his friends.
Natani:
She is always friendly with Natani, but when she asks for Natani to give Keith a note, Natani becomes jealous, as she thinks it is a love note for Keith, and she throws the note aside, Flora then catches it, hinting that it would be a good idea for Keith, but Natani, as a girl, does not see it that way.
Appearances
Edit
Appearances of Madelyn in TwoKinds

| | Pg | 1 | 2 | 3 | 4 | 5 | 6 | 7 | 8 | 9 | 10 |
| --- | --- | --- | --- | --- | --- | --- | --- | --- | --- | --- | --- |
| Prologue | 0 | N | N | N | N | N | | | | | |
| Chapter 1 | 0 | | | | | | N | N | N | N | N |
| | 10 | N | N | N | N | N | N | N | N | N | N |
| Chapter 2 | 20 | N | N | N | N | N | N | N | N | N | N |
| | 30 | N | N | N | N | N | N | N | N | N | N |
| | 40 | N | N | N | N | N | N | N | | | |
| Chapter 3 | 40 | | | | | | | | N | N | N |
| | 50 | N | N | N | N | N | N | N | N | N | N |
| | 60 | N | N | N | N | N | N | N | N | N | N |
| | 70 | N | N | N | | | | | | | |
| Chapter 4 | 70 | | | | N | N | N | N | N | N | N |
| | 80 | N | N | N | N | N | N | N | N | N | N |
| | 90 | N | N | N | N | N | N | N | N | N | N |
| | Pg | 1 | 2 | 3 | 4 | 5 | 6 | 7 | 8 | 9 | 0 |
| | 100 | N | N | N | | | | | | | |
| Chapter 5 | 100 | | | | N | N | N | N | N | N | N |
| | 110 | N | N | N | N | N | N | N | N | N | N |
| | 120 | N | N | N | N | N | N | N | N | N | N |
| | 130 | N | N | N | N | N | N | N | N | N | N |
| | 140 | N | N | | | | | | | | |
| Chapter 6 P1 | 140 | | | N | N | N | N | N | N | N | N |
| | 150 | N | N | N | N | N | N | N | N | N | N |
| | 160 | N | | | | | | | | | |
| Chapter 6 P2 | 160 | | N | N | N | N | N | N | N | N | N |
| | 170 | N | N | N | N | N | N | N | N | N | N |
| | 180 | N | N | N | N | N | N | N | N | N | N |
| | 190 | N | N | N | N | N | | | | | |
| Chapter 7 | 190 | | | | | | N | N | N | N | N |
| | Pg | 1 | 2 | 3 | 4 | 5 | 6 | 7 | 8 | 9 | 0 |
| | 200 | N | N | N | N | N | N | N | N | N | N |
| | 210 | N | N | N | N | N | N | N | N | N | N |
| | 220 | N | N | N | N | N | N | N | N | N | N |
| | 230 | N | N | N | N | N | N | N | N | N | N |
| | 240 | N | N | N | N | N | N | | | | |
| Chapter 8 | 240 | | | | | | | N | N | N | N |
| | 250 | N | N | N | N | N | N | N | N | N | N |
| | 260 | N | N | N | N | N | N | N | N | N | N |
| | 270 | N | N | N | N | N | N | N | N | N | N |
| | 280 | N | N | N | N | N | | | | | |
| Chapter 9 | 280 | | | | | | N | N | N | N | N |
| | 290 | N | N | N | N | N | N | N | N | N | N |
| | Pg | 1 | 2 | 3 | 4 | 5 | 6 | 7 | 8 | 9 | 0 |
| | 300 | N | N | N | N | N | N | N | N | N | N |
| | 310 | N | N | N | N | N | N | N | N | N | N |
| | 320 | N | N | N | N | N | N | N | N | N | N |
| | 330 | N | N | N | N | N | N | N | N | N | N |
| | 340 | N | N | N | N | N | N | | | | |
| Chapter 10 | 340 | | | | | | | N | N | N | N |
| | 350 | N | N | N | N | N | N | N | N | N | N |
| | 360 | N | N | N | N | N | N | N | N | N | Y |
| | 370 | N | N | Y | N | N | N | N | N | Y | N |
| | 380 | N | N | N | N | N | N | N | N | N | N |
| | 390 | N | N | N | N | N | N | N | N | N | N |
| | Pg | 1 | 2 | 3 | 4 | 5 | 6 | 7 | 8 | 9 | 0 |
| | 400 | N | N | N | N | N | N | N | N | N | N |
| | 410 | N | N | N | N | N | N | N | N | N | N |
| | 420 | N | N | N | N | N | N | N | N | N | N |
| | 430 | N | N | N | N | N | N | N | N | N | N |
| | 440 | N | N | N | | | | | | | |
| Chapter 11 | 440 | | | | N | N | N | N | N | N | N |
| | 450 | N | N | N | N | N | N | N | N | N | N |
| | 460 | N | N | N | N | N | N | N | N | N | N |
| | 470 | N | N | N | N | N | N | N | N | N | N |
| | 480 | N | N | N | N | N | N | N | N | N | N |
| | 490 | N | N | N | N | N | N | N | N | N | N |
| | Pg | 1 | 2 | 3 | 4 | 5 | 6 | 7 | 8 | 9 | 0 |
| | 500 | Y | N | N | N | N | N | N | N | N | N |
| | 510 | N | N | N | N | N | N | N | N | N | N |
| | 520 | N | N | N | N | N | N | N | N | N | |
| Chapter 12 | 520 | | | | | | | | | | N |
| | 530 | N | N | N | N | N | N | N | N | N | N |
| | 540 | N | N | N | N | N | N | N | N | N | N |
| | 550 | N | N | N | N | N | Y | Y | N | Y | N |
| | 560 | N | N | N | N | N | N | N | N | N | N |
| | 570 | N | N | Y | N | N | Y | N | N | N | N |
| | 580 | Y | N | N | N | N | N | N | N | N | N |
| | 590 | N | N | N | N | N | | | | | |
| Chapter 13 | 590 | | | | | | N | N | N | N | N |
| | Pg | 1 | 2 | 3 | 4 | 5 | 6 | 7 | 8 | 9 | 0 |
| | 600 | N | N | N | N | N | N | N | N | N | N |
| | 610 | Y | N | N | | | | | | | |
| Chapter 14 | 610 | | | | N | N | N | N | N | N | N |
| | 620 | N | N | N | N | N | N | N | N | N | N |
| | 630 | N | N | N | N | N | N | N | N | N | N |
| | 640 | N | N | N | N | N | N | N | N | N | N |
| | 650 | N | N | N | N | Y | Y | Y | | | |