Madelyn Adelaide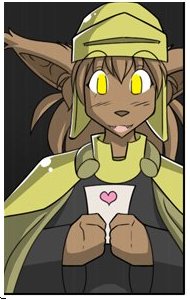 Madelyn handing Natani her note for Keith
Information
Gender:
Female
Race:
Basitin
Kinship:
Eastern Basitin
Current Age:
13?
Class:
Basitin Lieutenant
Faction:
Eastern Basitin Kingdom
Current Status:
Active
Notes:
Back Ground
Edit
Lieutenant Madelyn Adelaide (AKA Maddie Addie) is a member of the Basitin army. She snuck onto Eric's ship between chapters thirteen and fourteen. Causing a fire which was blamed on Mike and Evals. She is also the daughter of King Adelaide.
Personality
Edit
Madelyn has a very up-beat and positive attitude, but is not as mature as her rank suggests, she is more like a teenage girl than a lieutenant in many ways, but in chapter 12, page 556, she can be seen defending Keith in a mature and focused manner.
Relationships
Edit
Keith:
It is possible that she has a crush on Keith, as she defended him multiple times and helped him in different situations. Although this could just be her following orders.
Appearances
Edit
Appearances of Madelyn in TwoKinds

| | Pg | 1 | 2 | 3 | 4 | 5 | 6 | 7 | 8 | 9 | 10 |
| --- | --- | --- | --- | --- | --- | --- | --- | --- | --- | --- | --- |
| Prologue | 0 | N | N | N | N | N | | | | | |
| Chapter 1 | 0 | | | | | | N | N | N | N | N |
| | 10 | N | N | N | N | N | N | N | N | N | N |
| Chapter 2 | 20 | N | N | N | N | N | N | N | N | N | N |
| | 30 | N | N | N | N | N | N | N | N | N | N |
| | 40 | N | N | N | N | N | N | N | | | |
| Chapter 3 | 40 | | | | | | | | N | N | N |
| | 50 | N | N | N | N | N | N | N | N | N | N |
| | 60 | N | N | N | N | N | N | N | N | N | N |
| | 70 | N | N | N | | | | | | | |
| Chapter 4 | 70 | | | | N | N | N | N | N | N | N |
| | 80 | N | N | N | N | N | N | N | N | N | N |
| | 90 | N | N | N | N | N | N | N | N | N | N |
| | Pg | 1 | 2 | 3 | 4 | 5 | 6 | 7 | 8 | 9 | 0 |
| | 100 | N | N | N | | | | | | | |
| Chapter 5 | 100 | | | | N | N | N | N | N | N | N |
| | 110 | N | N | N | N | N | N | N | N | N | N |
| | 120 | N | N | N | N | N | N | N | N | N | N |
| | 130 | N | N | N | N | N | N | N | N | N | N |
| | 140 | N | N | | | | | | | | |
| Chapter 6 P1 | 140 | | | N | N | N | N | N | N | N | N |
| | 150 | N | N | N | N | N | N | N | N | N | N |
| | 160 | N | | | | | | | | | |
| Chapter 6 P2 | 160 | | N | N | N | N | N | N | N | N | N |
| | 170 | N | N | N | N | N | N | N | N | N | N |
| | 180 | N | N | N | N | N | N | N | N | N | N |
| | 190 | N | N | N | N | N | | | | | |
| Chapter 7 | 190 | | | | | | N | N | N | N | N |
| | Pg | 1 | 2 | 3 | 4 | 5 | 6 | 7 | 8 | 9 | 0 |
| | 200 | N | N | N | N | N | N | N | N | N | N |
| | 210 | N | N | N | N | N | N | N | N | N | N |
| | 220 | N | N | N | N | N | N | N | N | N | N |
| | 230 | N | N | N | N | N | N | N | N | N | N |
| | 240 | N | N | N | N | N | N | | | | |
| Chapter 8 | 240 | | | | | | | N | N | N | N |
| | 250 | N | N | N | N | N | N | N | N | N | N |
| | 260 | N | N | N | N | N | N | N | N | N | N |
| | 270 | N | N | N | N | N | N | N | N | N | N |
| | 280 | N | N | N | N | N | | | | | |
| Chapter 9 | 280 | | | | | | N | N | N | N | N |
| | 290 | N | N | N | N | N | N | N | N | N | N |
| | Pg | 1 | 2 | 3 | 4 | 5 | 6 | 7 | 8 | 9 | 0 |
| | 300 | N | N | N | N | N | N | N | N | N | N |
| | 310 | N | N | N | N | N | N | N | N | N | N |
| | 320 | N | N | N | N | N | N | N | N | N | N |
| | 330 | N | N | N | N | N | N | N | N | N | N |
| | 340 | N | N | N | N | N | N | | | | |
| Chapter 10 | 340 | | | | | | | N | N | N | N |
| | 350 | N | N | N | N | N | N | N | N | N | N |
| | 360 | N | N | N | N | N | N | N | N | N | Y |
| | 370 | N | N | Y | N | N | N | N | N | Y | N |
| | 380 | N | N | N | N | N | N | N | N | N | N |
| | 390 | N | N | N | N | N | N | N | N | N | N |
| | Pg | 1 | 2 | 3 | 4 | 5 | 6 | 7 | 8 | 9 | 0 |
| | 400 | N | N | N | N | N | N | N | N | N | N |
| | 410 | N | N | N | N | N | N | N | N | N | N |
| | 420 | N | N | N | N | N | N | N | N | N | N |
| | 430 | N | N | N | N | N | N | N | N | N | N |
| | 440 | N | N | N | | | | | | | |
| Chapter 11 | 440 | | | | N | N | N | N | N | N | N |
| | 450 | N | N | N | N | N | N | N | N | N | N |
| | 460 | N | N | N | N | N | N | N | N | N | N |
| | 470 | N | N | N | N | N | N | N | N | N | N |
| | 480 | N | N | N | N | N | N | N | N | N | N |
| | 490 | N | N | N | N | N | N | N | N | N | N |
| | Pg | 1 | 2 | 3 | 4 | 5 | 6 | 7 | 8 | 9 | 0 |
| | 500 | Y | N | N | N | N | N | N | N | N | N |
| | 510 | N | N | N | N | N | N | N | N | N | N |
| | 520 | N | N | N | N | N | N | N | N | N | |
| Chapter 12 | 520 | | | | | | | | | | N |
| | 530 | N | N | N | N | N | N | N | N | N | N |
| | 540 | N | N | N | N | N | N | N | N | N | N |
| | 550 | N | N | N | N | N | Y | Y | N | Y | N |
| | 560 | N | N | N | N | N | N | N | N | N | N |
| | 570 | N | N | Y | N | N | Y | N | N | N | N |
| | 580 | Y | N | N | N | N | N | N | N | N | N |
| | 590 | N | N | N | N | N | | | | | |
| Chapter 13 | 590 | | | | | | N | N | N | N | N |
| | Pg | 1 | 2 | 3 | 4 | 5 | 6 | 7 | 8 | 9 | 0 |
| | 600 | N | N | N | N | N | N | N | N | N | N |
| | 610 | Y | N | N | | | | | | | |
| Chapter 14 | 610 | | | | N | N | N | N | N | N | N |
| | 620 | N | N | N | N | N | N | N | N | N | N |
| | 630 | N | N | N | N | N | N | N | N | N | N |
| | 640 | N | N | N | N | N | N | N | N | N | N |
| | 650 | N | N | N | N | Y | Y | Y | | | |