Laura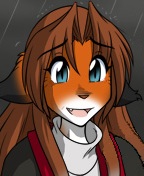 Information
Gender:
Female
Race:
Keidran
Kinship:
Coastal Fox Clan
Current Age:
16
Class:
Martyr
Faction:
Coastal Keidran
Current Status:
Deceased
Notes:
N/A

Laura (IPA(key) /lɔr'ə/) was a minor character of the Fox Keidran race. She was primarily recognized as Keith's love interest, although she did share moderate interaction with all of the main characters, particularly during the Basitin Saga of Chapter 11.
Her untimely death came as a result of fatal internal injuries sustained from the earth-trembling explosion of the Templar Tower. Ironically, however, she can be credited for providing the key piece that led to its destruction.
From the Author[1]Edit
Personality
Edit
"Laura has very little self-confidence. She is timid, shy, and emotionally fragile. She tries to avoid conflict and always be polite."
Biography
Edit
"Laura's family found Keith washed ashore behind their house after he had been banished. Laura fell in love with Keith and they were to be married, however, events conspired against them and Keith ended up leaving and heading into human territory, where she couldn't follow. After several years, she decided to seek out Keith in the only way she knew how: by traveling to the islands of the Basitin."
Laura was born within, and raised as part of, the Coastal Fox Clan. When Keith washed ashore after his banishment, Laura's family took him in. After while, the two fell in love with one another, and Keith proposed to her, leading to their engagement.
Personality and Behavior
Edit
Laura was a shy, emotional, and considerably polite woman. She was quick to cry, particularly when someone lost their temper in front of her. She often put blame on herself and never showed intent of harming another character. She also had somewhat of a nervous stutter, regardless of the situation.
Relationship with Keith
Edit
Laura was Keith's ex-fiancé and lover. She agreed to marry him, but decided to flee two days prior to the ceremony, causing Keith a great deal of pain. Her reasoning was that she was tricked into drinking the same type of milk as Flora, and she felt ashamed of her actions while under its influence. She did make an attempt to follow Keith across the border of his territory thereafter, but was unable to do so.
(There is no proof that Laura received the Keidran milk from her sister. It is unknown as to whether or not Laura's illusion was being truthful during her speaking to Keith, after he takes an arrow to the chest.)
During the major Chapter 11 conflict, Laura provided her locket for Natani to use as a mana source to aid in the destruction of the Templar Tower. However, while attempting to distract Trace (who was under the control of the tower) and General Alabaster, she was severely injured in the explosion produced by the tower. Keith was convinced that she died in the blast, seeing as how she was nowhere to be found immediately thereafter.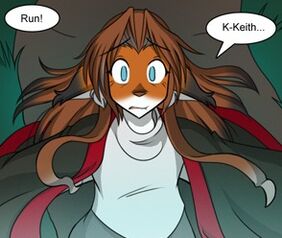 Later on, Trace awakened in a "dragon cave" (geographic location unknown) with Lady Nora nearby. He discovered that Nora also rescued Laura, who was in his arms when Lady Nora found them. She reluctantly stated, in reference to Laura, that "no amount of medicine can heal those injuries ... she is slowly bleeding to death." Determined to save her, Trace carried Laura along a beach, where the two of them were met by Keith. Without hestitation, Laura told Keith that she was worried about him, and was glad to see that he's okay. Inevitably, as Keith did his best to get her medical aid, she uttered her last words: "I'm so happy to be with you again... I feel like I can finally... rest...". Keith, holding Laura, showed regret for his decision to ask her for more time.
The opening card for Chapter 15 features a distraught Keith, along with an apparition of Laura, gracefully holding her arms around his shoulders, while he gazes at the very locket which ultimately contributed to her death. The chapter's title, "Haunted", makes clear what Keith is now experiencing within himself.
Laura's fate and role as Keith's wife/Fiance is similar to that of Saria au Gruhen, Trace's late wife.
It is possible that laura is able to use magic, This is hinted here
Appearances
Edit
Appearances of Laura in TwoKinds

| | Pg | 1 | 2 | 3 | 4 | 5 | 6 | 7 | 8 | 9 | 0 |
| --- | --- | --- | --- | --- | --- | --- | --- | --- | --- | --- | --- |
| Prologue | 0 | N | N | N | N | N | | | | | |
| Chapter 1 | 0 | | | | | | N | N | N | N | N |
| | 10 | N | N | N | N | N | N | N | N | N | N |
| Chapter 2 | 20 | N | N | N | N | N | N | N | N | N | N |
| | 30 | N | N | N | N | N | N | N | N | N | N |
| | 40 | N | N | N | N | N | N | N | | | |
| Chapter 3 | 40 | | | | | | | | N | N | N |
| | 50 | N | N | N | N | N | N | N | N | N | N |
| | 60 | N | N | N | N | N | N | N | N | N | N |
| | 70 | N | N | N | | | | | | | |
| Chapter 4 | 70 | | | | N | N | N | N | N | N | N |
| | 80 | N | N | N | N | N | N | N | N | N | N |
| | 90 | N | N | N | N | N | N | N | N | N | N |
| | Pg | 1 | 2 | 3 | 4 | 5 | 6 | 7 | 8 | 9 | 0 |
| | 100 | N | N | N | | | | | | | |
| Chapter 5 | 100 | | | | N | N | N | N | N | N | N |
| | 110 | N | N | N | N | N | N | N | N | N | N |
| | 120 | N | N | N | N | N | N | N | N | N | N |
| | 130 | N | N | N | N | N | N | N | N | N | N |
| | 140 | Y | N | | | | | | | | |
| Chapter 6 P1 | 140 | | | N | N | N | N | N | N | N | N |
| | 150 | N | N | N | N | N | N | N | N | N | N |
| | 160 | N | | | | | | | | | |
| Chapter 6 P2 | 160 | | N | N | N | N | N | N | N | N | N |
| | 170 | N | N | N | N | N | N | N | N | N | N |
| | 180 | N | N | N | N | N | N | N | N | N | N |
| | 190 | N | N | N | N | N | | | | | |
| Chapter 7 | 190 | | | | | | N | N | N | N | N |
| | Pg | 1 | 2 | 3 | 4 | 5 | 6 | 7 | 8 | 9 | 0 |
| | 200 | N | N | N | N | N | N | N | Y | Y | Y |
| | 210 | Y | N | N | N | N | N | Y | N | N | N |
| | 220 | N | N | N | N | N | N | N | N | N | N |
| | 230 | N | N | N | N | N | N | N | N | Y | N |
| | 240 | N | N | N | N | N | N | | | | |
| Chapter 8 | 240 | | | | | | | N | N | N | N |
| | 250 | N | N | N | N | N | N | N | N | N | N |
| | 260 | N | N | N | N | N | N | N | N | N | N |
| | 270 | N | N | N | N | N | N | N | N | N | N |
| | 280 | N | N | N | N | N | | | | | |
| Chapter 9 | 280 | | | | | | N | N | N | N | N |
| | 290 | N | N | N | N | N | N | N | N | N | N |
| | Pg | 1 | 2 | 3 | 4 | 5 | 6 | 7 | 8 | 9 | 0 |
| | 300 | N | N | N | N | N | N | N | N | N | N |
| | 310 | N | N | N | N | N | N | N | N | N | N |
| | 320 | N | N | N | N | N | N | N | N | N | N |
| | 330 | N | N | N | N | N | N | N | N | N | N |
| | 340 | N | N | N | N | N | N | | | | |
| Chapter 10 | 340 | | | | | | | N | N | N | N |
| | 350 | N | N | N | N | N | N | N | N | N | N |
| | 360 | N | N | N | N | N | N | N | N | N | N |
| | 370 | N | N | N | N | N | N | N | N | N | N |
| | 380 | N | N | N | N | N | N | N | N | N | N |
| | 390 | N | N | N | N | N | N | N | N | N | N |
| | Pg | 1 | 2 | 3 | 4 | 5 | 6 | 7 | 8 | 9 | 0 |
| | 400 | N | N | N | N | N | N | N | N | N | N |
| | 410 | Y | N | N | N | Y | Y | N | N | N | N |
| | 420 | N | Y | Y | Y | Y | N | N | N | Y | Y |
| | 430 | Y | N | Y | N | N | N | N | N | N | N |
| | 440 | N | N | N | | | | | | | |
| Chapter 11 | 440 | | | | Y | N | N | N | N | N | N |
| | 450 | N | N | N | N | N | N | N | N | N | N |
| | 460 | N | N | N | Y | N | N | N | Y | Y | N |
| | 470 | N | N | Y | Y | Y | N | Y | N | Y | N |
| | 480 | N | N | N | Y | N | N | N | N | N | N |
| | 490 | N | N | N | N | N | N | N | N | N | N |
| | Pg | 1 | 2 | 3 | 4 | 5 | 6 | 7 | 8 | 9 | 0 |
| | 500 | N | N | Y | Y | Y | N | N | N | N | N |
| | 510 | Y | N | N | N | N | Y | Y | Y | Y | Y |
| | 520 | N | Y | Y | N | N | N | N | N | N | |
| Chapter 12 | 520 | | | | | | | | | | N |
| | 530 | N | N | N | N | N | N | N | N | N | N |
| | 540 | N | N | N | N | N | N | N | Y | N | N |
| | 550 | N | N | N | N | N | N | N | N | N | N |
| | 560 | N | N | N | N | N | N | N | N | N | N |
| | 570 | N | N | N | N | N | N | N | N | N | N |
| | 580 | N | N | N | Y | Y | Y | Y | Y | N | N |
| | 590 | N | N | Y | Y | Y | | | | | |
| Chapter 13 | 590 | | | | | | N | N | N | N | N |
| | Pg | 1 | 2 | 3 | 4 | 5 | 6 | 7 | 8 | 9 | 0 |
| | 600 | N | N | N | N | N | N | N | N | N | N |
| | 610 | N | N | N | | | | | | | |
| Chapter 14 | 610 | | | | N | N | N | N | N | N | N |
| | 620 | N | N | N | N | N | N | N | N | N | N |
| | 630 | N | N | N | N | N | N | N | N | N | N |
| | 640 | N | N | N | N | N | N | N | N | N | N |
| | 650 | N | N | N | N | N | N | N | N | N | N |
| Chapter 15 | 660 | N | Y | N | N | N | N | N | N | N | N |
| | 670 | N | N | N | N | N | N | N | N | N | N |
| | 680 | N | N | N | N | N | N | N | N | N | N |
| | 690 | N | N | N | N | Y | N | N | N | N | N |
| | 700 | N | N | N | N | N | N | N | N | N | N |
| | 710 | N | N | Y | Y | Y | Y | | | | |
References
Edit