Chapter 13
Embarking Again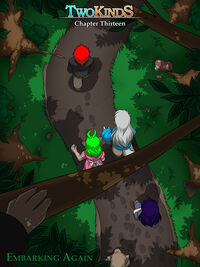 Information
Author:
Tom Fischbach
Progress:
Completed
Number of Pages:
18
Start Page:
596
End Page:
613
Book:
Notes:

Embarking Again is the 13th chapter of Twokinds.
The second party has major problems as the wolf assassin Zen is in hot pursuit chasing them. Will they survive?
Transcript
Edit
Underwork
Characters
Edit
Ad blocker interference detected!
Wikia is a free-to-use site that makes money from advertising. We have a modified experience for viewers using ad blockers

Wikia is not accessible if you've made further modifications. Remove the custom ad blocker rule(s) and the page will load as expected.