Chapter 11
No Pressure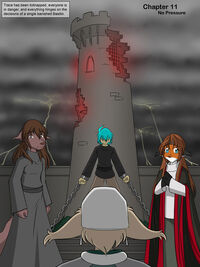 Information
Author:
Tom Fischbach
Progress:
Finished
Number of Pages:
86
Start Page:
444
End Page:
529
Book:
Notes:
No Pressure is the 11th chapter of TwoKinds.
The Templars have captured Trace and all hope seems to be lost. It's all up to Keith to save his people! But if he wins the day, who will be among the fallen...
Transcript
Edit
Underwork
Characters
Edit
Issac (First Appearance)
Healer
Wolf
Basitin Soldier 1
Basitin Soldier 2
Basitin Soldier 3
Musclehead General
Fox Woman
Templar 1
Templar 2
Templar 3
King Adelaide (First Appearance)
Ad blocker interference detected!
Wikia is a free-to-use site that makes money from advertising. We have a modified experience for viewers using ad blockers

Wikia is not accessible if you've made further modifications. Remove the custom ad blocker rule(s) and the page will load as expected.